Gas-fired radiant tube heaters
HYPERTUBE Uplus & Lplus
The HYPERTUBE Uplus and Lplus range of high performance gas-fired radiant tube heaters is designed to provide comfort while reducing energy costs and air pollutant emissions.

HYPERTUBE Uplus and Lplus heaters are particularly suited for well-insulated buildings up to 5 to 10 m in height.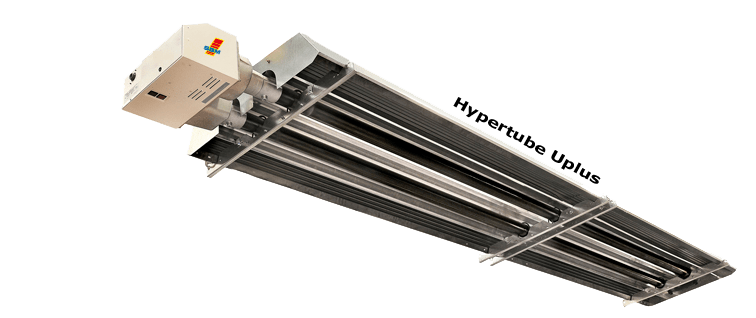 ECONOMY
 Insulated dual cycloid reflector: seasonal performance factor greater than 85%
Annealed steel transmitters with turbulator: combustion efficiency greater than 89%
Management of radiant tubes by a control module (zones, time periods, etc.)
COMFORT
Heat directed directly toward the users
 Gentle warmth at user level
 Programming of several setpoint temperatures in the same volume is possible
QUALITY
 Low NOx emissions (< 150 mg/kWh)
 Connection for the discharge of combustion products (Type B or C) is possible
 Autonomous ionization-based flame monitoring and management unit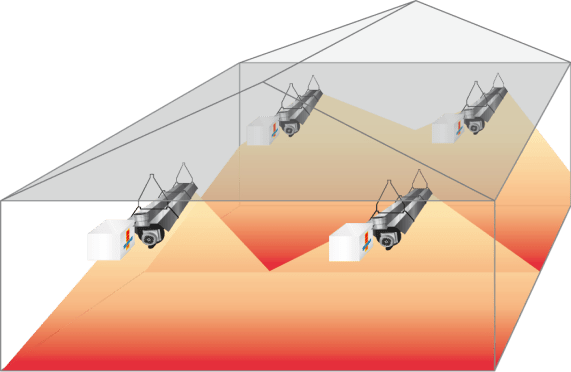 Uplus & Lplus radiant tube heater ranges:
high-efficiency
The unique design of the HYPERTUBE Uplus and Lplus range of heaters combines optimum comfort and gas savings. SBM radiant tubes can be connected in a stack configuration for the combustion air and the discharge of combustion products.

Infrared radiation through radiant tubes brings comfort directly to the users, generating energy savings. The HYPERTUBE Uplus and Lplus ranges operate on natural gas (G20 and G25) or propane (G31).